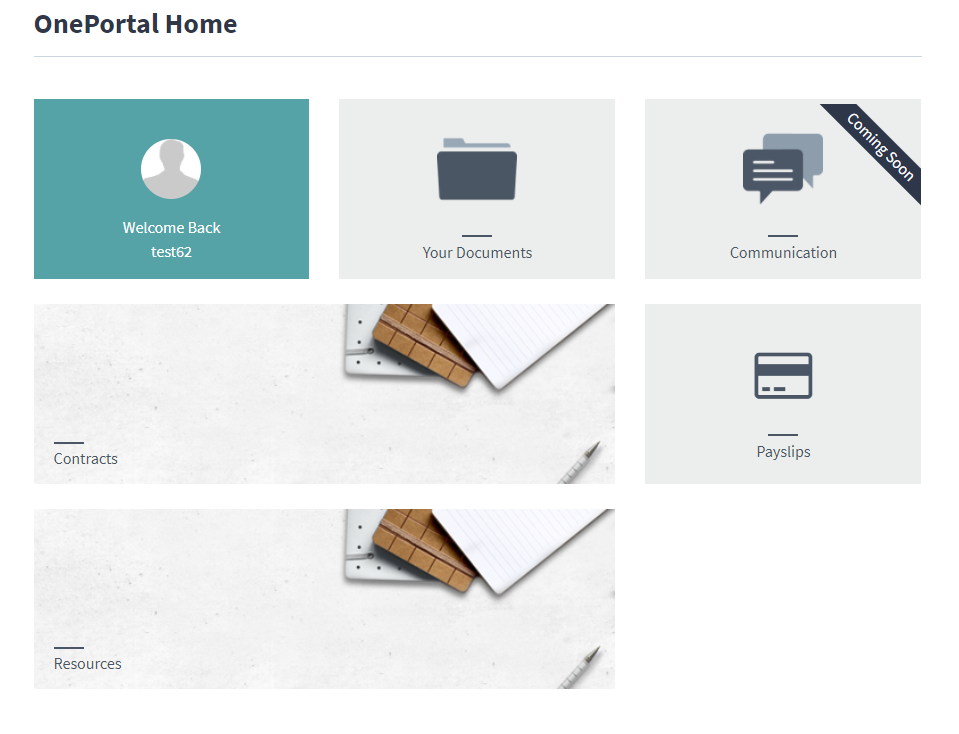 To add a timesheet, go to 'Contracts'.
You can access 'Contracts' from your homepage or from the 'Jump to' menu in the top right of your screen.
In the contracts section, select the contract you want to add your timesheet to. Click 'View Timesheets', it'll expand all timesheets submitted under that contract.

Click on 'Add A Timesheet' to add your next timesheet.

Your online portal will automatically predict your next timesheet period. If the estimated dates do not match the days you've worked click 'no' and you will be able to confirm the actual start date and end period for this timesheet.

Fill in the correct dates, and press 'Confirm Timesheet Dates'.

Enter the hours you have worked into each day of the week. If you have worked the same hours on more than one day, you can use the 'Quick Fill' tool. Here you can choose your rate of pay and the numbers of hours.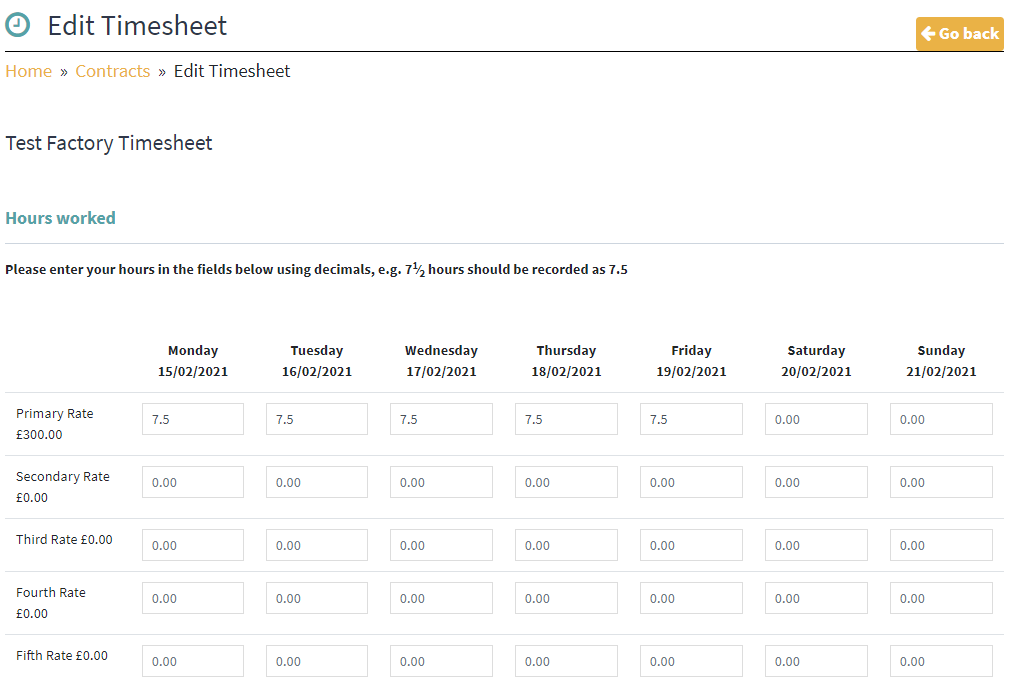 If you don't have any expenses which relate to this timesheet, click 'Save Progress'.
Review the 'Totals' summary to make sure you are happy and then click 'Submit'.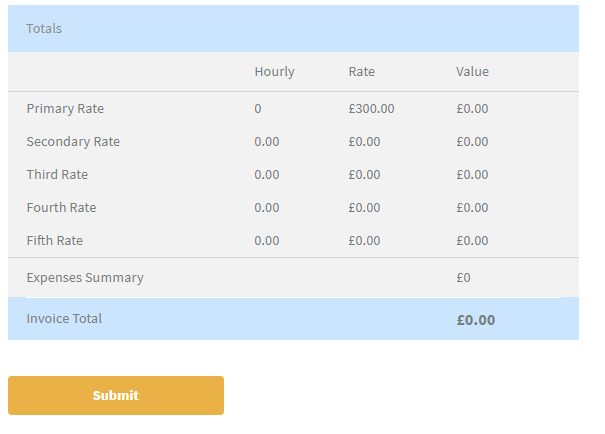 Click 'Expenses' in the 'Edit Timesheet' area.
Click the '+' on the relevant day to add an expense.
Select the expense type you would like to add from the dropdown list.
For a business mileage claim, enter the 'postcode from' and 'postcode to'.
Select whether it's a return journey, select your vehicle and click 'Calculate Mileage'. Your online portal will calculate your mileage based on the data you have entered.
Upload any receipts related to this expense. To add this expense claim to your timesheet, click 'Save'
Saving expenses as a favourite
If the expenses you're claiming refer to your typical working day, click the star to save it as a favourite so it can be used again. This will allow you to save multiple expenses and expense types.

You should give your favourite an appropriate name so it can be easily identified next time. Click 'Submit' once you've entered a name.
Your favourites will then be stored. You will see them to the left of your expenses section.
They can be added on to any other relevant days by clicking the '+'. If you wish to delete any favourites, click 'x'.
Editing and deleting expenses
If you create an expense by mistake or need to delete one, click the bin icon.
If you need to amend an expense, simply click on it and the box will expand to show you the details.
Make your required changes and then click 'Save'.

Submitting your timesheet and expenses
Once you have saved any expenses that you've added. Save your progress and return to the timesheet.
Review the 'Totals' summary to ensure your hours and expenses are correct. Once you're happy click 'Submit'
Read and agree to the Intentions Statement, then click 'Submit timesheet for processing'.
Your timesheet and expenses will now have been submitted for processing.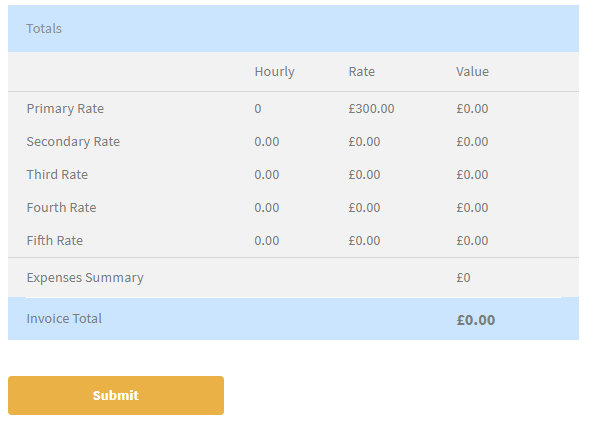 To view your payslips, go to 'Payslips'.
You can access your payslips from your homepage or from the 'Jump to' menu in the top right of your screen.
In the 'Payslips' section, you will be able to view a summary of your pay, including your contracted rate, deductions and net pay. You'll also be able to download your payslips.
Here you'll be able to upload files such as your identification and proof of address. If you're eligible to claim expenses, you'll also see any receipts that you've previously uploaded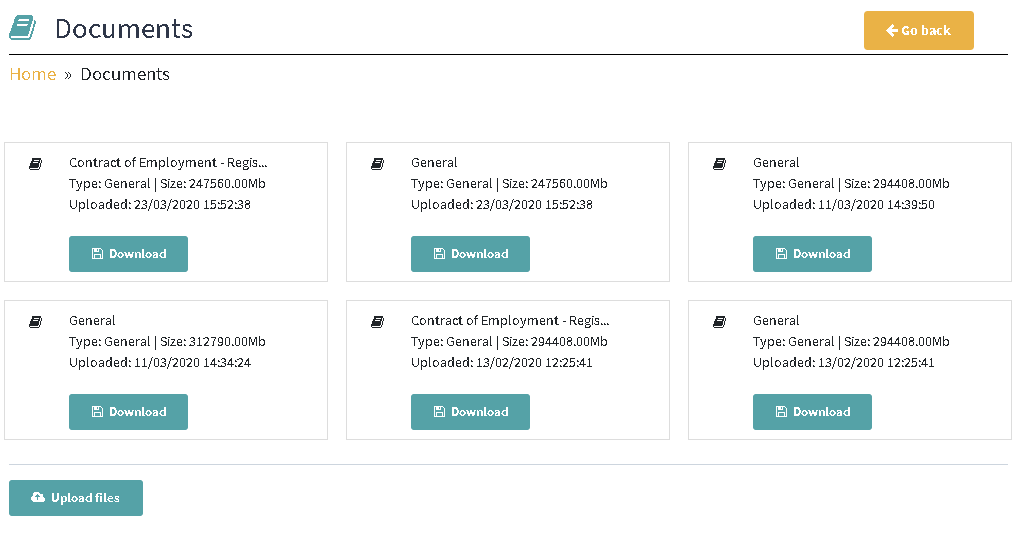 Your new look online portal now has a resources section where you can access useful guides and helpful information that we've put together exclusively for you, our contractors. From news articles to guide sheets, you'll find all the information you need to support your contracting career.
Your employee handbook and privacy policy can also be found here. Simply click 'View' to see any of the resources.
Copyright © 2021. All rights reserved.